Multipurpose tunnelling
Supersize structures
for the next
feasibility visions
There is a trend towards ever-larger diameters in mechanized tunnelling – following the vision of subterranean multipurpose infrastructure. Applications include three-lane highways, combined road-metro routes with sewage schemes. Mastering XXL tunnel drives requires purpose-made TBMs to handle high groundwater pressure, mixed-face conditions and large volumes of excavated soil. Going larger and operating safer, step by step, is the pioneer's art of progression.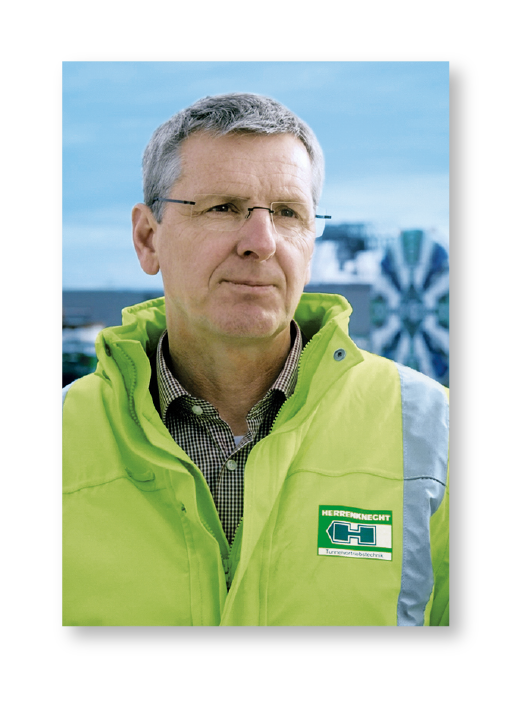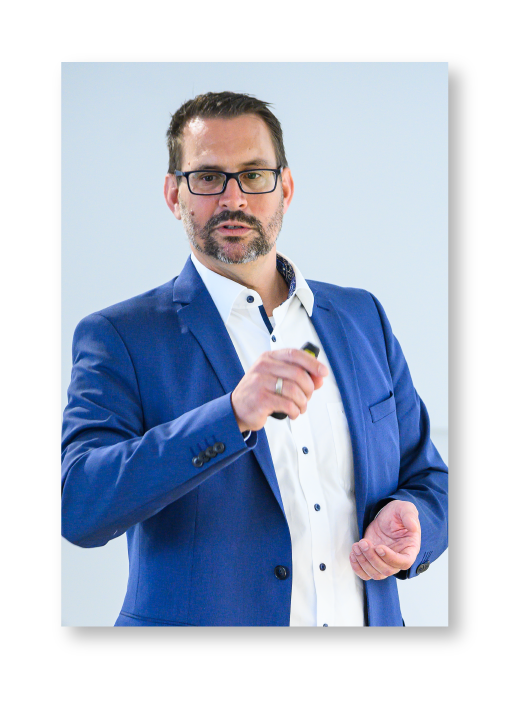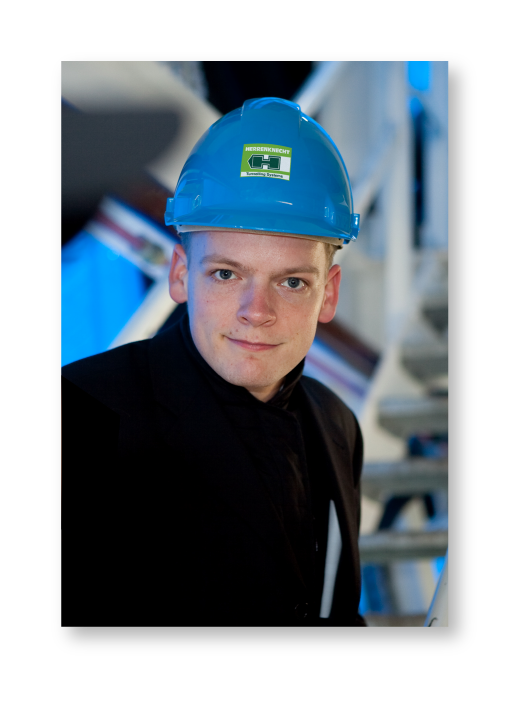 Ready for new terrain
Mastering extremes
and setting benchmarks
Pressure conditions like those experienced by a deep sea diver at a depth of 80 meters. Mountains of muck that could almost be used to build a pyramid. Millimeter precision to create a new, multi-story traffic artery directly under a highway or river mouth. 300 tonne machines transported by road following an elaborate choreography. Record diameters "Made in Schwanau" have become an integral part of the tunnelling world.
Explore the benchmarks by moving the slider
Trusted technology
Preconditions and safer features for
supersize tunnelling
The next record diameter is always based on sound engineering experience from previous reference projects. The next step into the future always produces an innovation and pushes the limits of technical feasibility, without overstretching them at the expense of human safety and the sustainable quality of the structures.
Real power and strong torque
Greater thrust
Santa Lucia: 411,500 kN
Stronger drive power
West Gate Tunnel: 8,400 kW
Higher torque
Santa Lucia: 101,296 kNm
Accessible cutting wheel
Larger tunnel diameters require deeper alignments
Deeper alignments often entail higher ground and water pressure
The accessible cutting wheel developed by Herrenknecht enables safe replacement of excavation tools from the rear under atmospheric pressure
To date, Herrenknecht has delivered 44 Mixshields with accessible cutterheads
High-capacity muck logistics
For example, with diameter increases from 15 to 18 m, 44 % more spoil per meter of advance has to be handled
Mixshields: the capacity of the slurry pumps and lines has to be increased
EPB Shields: the capacity of the screw conveyor or muck belt must be increased
Extreme mixed-face conditions
Supersize tunnel projects often run through complex und heterogeneous geology
Herrenknecht Mixshields and Variable Density TBMs efficiently and safely master the most challenging ground conditions
Heavy load on excavation tools
Increased rotation speed for outer disc cutters
Higher excavation volume
Herrenknecht systems for cutter monitoring help to reduce possible damage, to better plan replacement intervals and optimize the return on investment
Next concepts
Large-diameter Variable Density TBM with accessible cutterhead for drives with extreme pressure to avoid high-exposure stone crusher maintenance
XXL TBMs for smaller horizontal curve radii of 200 meters
Innovate accessible cutterhead solutions for EPB Shields
Efficient assistance system to drive the machine close to the optimum operating point
Trusted technology
Legacy of record-breaking
supersize tunnels
A look at Herrenknecht's portfolio reveals a globally unique project density of tunnels with increasingly extreme diameters. Explore the projects.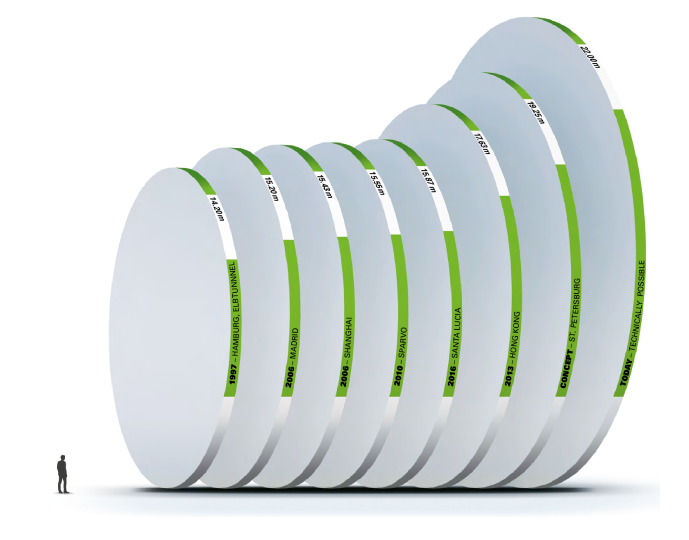 1,80m
HAMBURG ELBE TUNNEL 4th TUBE
Hamburg, Germany
Mixshield
Tunnelling: 1997–2000
First use of the newly developed cutting wheel accessible under atmospheric conditions for safe and more efficient tool changes.
M-30 BYPASS SUR MADRID CALLE 30 TÚNEL NORT
Madrid, Spain
EPB Shield
Tunnelling: 2005-2006
Two concentrically arranged cutting wheels that can rotate independently of each other so the high torque can be applied to the ground gradually during start-up.
Shanghai Changjiang Under River
Shanghai, China
2 x Mixshield
Tunnelling: 2006 – 2008
The two Mixshield giants reached breakthrough after 7.47 km of tunnelling 10 and 12 months earlier than planned.
GALLERIA SPARVO
Sparvo, Italy
EPB Shield
Tunnelling: 2011–2013
The entire machine is designed to be explosion-proof, including a double-walled enclosed belt conveyor pressurized with compressed air and a powerful ventilation system.
GALLERIA SANTA LUCIA
Barberino di Mugello, Italy
EPB Shield
Tunnelling: 2017–2020
Long-distance drive over 7.55 km with a total of 1.5 million m³ of muck.
HONG KONG TUEN MUN–CHEK LAP KOK LINK
Hong Kong, China
Mixshield
Tunnelling: 2015
Currently the world´s largest tunnel boring machine.
Orlovski Tunnel
St. Petersburg, Russia
Mixshield
Completed design study for a double-deck road tunnel under the river Neva.
22.00 m
Today
techically possible
XXL tunnelling stronghold

26 gigantic road tunnels
for the yangtze river delta
The Yangtze River Delta is one of the most vibrant regions in China. The fast-growing area on the east coast represents more than a tenth of China's population and contributes about a quarter of China's economic output. The national strategy of regional integration and high-quality growth is adding further momentum to the region with 27 urban cities.
Contact
Planning a multipurpose tunnel?
Ready to help!